Our Saints
Saint Margaret Mary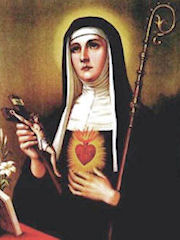 1647 to 1690
Saint Margaret Mary Alacoque lived a simple life, a life dedicated to God.
She was a nun in Paray-Le-Monial in France. It was here that she had visions, these visions told her to spread the devotion to the Sacred Heart of Jesus. To this end, Saint Margaret Mary helped begin the feast day to the Scared Heart we know today.
She was a humble person, a prayerful person and a person who dedicated her life to serving God.
As a school community we celebrate her feast day in October each year and continually follow her example as we strive to Live, Love and Lear in the light and example of Christ.
Reception - Saint Francis of Assisi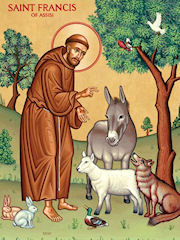 As a young man, Francis liked to have a good time. His father was rich. But once, when he was sick, Francis heard our Lord calling him to leave the world and follow Him. Francis began to visit the hospitals and to serve the sick. He used to say, "When one serves the poor, he serves Christ Himself."
Francis put on the clothes of a poor shepherd and began to preach to the people about peace with God, peace with one's neighbour, and peace with one's self. He looked on all people and things as his brothers and sisters because they were all created by the same God.
Francis took twelve young men to Rome with him, and the Pope gave him permission to start a new religious order, the Franciscans. He also helped St. Clare to start the order known as the Poor Clares.
Francis had a vision in which he saw Jesus hanging on the Cross. The marks of the five wounds of Jesus were left in his hands, his side, and his feet, which remained with him all his life.
When Francis became very ill, he prayed, "O Lord, I thank You for the pains which I suffer." He died October 4 1226.
Year 1F - Saint Patrick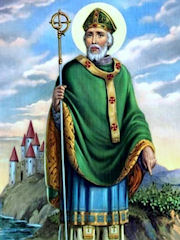 St. Patrick was born in Scotland in the year 387. At sixteen he was captured by pirates and sold as a slave to a chief in Ireland.
While tending sheep in the mountains, he prayed constantly.
After six years, a voice from heaven told him to go back to his own country. But first he went to Rome, where he became a priest. He was then sent to England where be laboured for the Church for some time. He wanted, however, to return to Ireland, and he begged the Pope to send him there. The Pope made him a bishop and then sent him as a missionary to Ireland.
One of the pagan kings of Ireland arrested Patrick. When he saw the miracles worked by Patrick, he said, "Tell us about your God. He has given you great power."
"There is but one God," answered Patrick, "and three divine Persons: the Father, the Son, and the Holy Spirit." Picking up a green shamrock he said, "Even as there are three leaves on this one stern, so there are three Persons in one God." He was allowed to preach the new Faith everywhere in Ireland.
Year 1C - Mary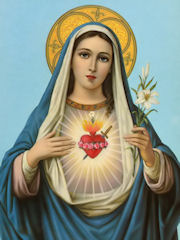 The Blessed Virgin Mary is the mother of Jesus Christ, The Mother of God.
Mary has been venerated since Early Christianity and is considered by many to be the most admirable Saint. She has miraculously appeared to many believers over the centuries.
Mary was highly favoured of God and chosen to be the mother of Jesus Christ. Her humility, devotion, and strength stand as a model for all Christian disciples.
Year 2B - Saint Jude Thaddeus
Jude Thaddeus was a nephew of Mary and Joseph, and a cousin of our Lord. He was a brother of the Apostle James the Less.
His father was Cleophas, who died a martyr, and his mother's name was Mary. She stood beneath the Cross when Jesus died, and later came to anoint the body of Jesus.
In his boyhood and youth Jude must have known Jesus well. He left all to follow the Master
Jude is sometimes pictured with an image of our Lord because he cured the King of Edessa from leprosy in the name of Jesus.
God gave Jude a special power. When he ordered the devils in pagan idols to leave, the images fell to the ground, broken into pieces.
Jude and Simon suffered martyrdom in Persia, where they were missionaries. Jude was beaten to death with a club. His relics are now honoured in St. Peter's Basilica in Rome. St. Jude is very popular as the patron of impossible cases.
Year 2D - Saint Teresa of Calcutta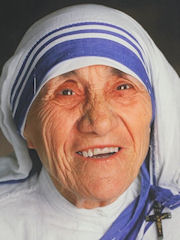 Mother Teresa was the founder of the Order of the Missionaries of Charity, a Roman Catholic congregation of women dedicated to helping the poor. Considered one of the greatest humanitarians of the 20th century, she was canonized as Saint Teresa of Calcutta in 2016.
Born in 1910, in Skopje, Macedonia, Mother Teresa taught in India for 17 years before in 1946 she experienced her "call within a call" to devote herself to caring for the sick and poor. Her order established a hospice; centres for the blind, aged, and disabled; and a leper colony.
In 1979 she received the Nobel Peace Prize for her humanitarian work. She died in September 1997 and was beatified in October 2003. In December 2015, Pope Francis recognized a second miracle attributed to Mother Teresa, clearing the way for her to be canonized as Saint Teresa of Calcutta on 4 September 2016.
Year 3 - Saint Benedict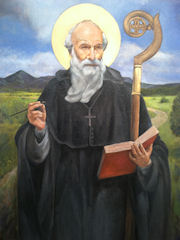 Benedict was born in the year 480. He belonged to a noble family of Rome. In Subico, a town near Rome, he lived in a cave in the side of a cliff for three years. Sometimes a raven brought him food.
Men began flocking to Benedict. Soon more than one hundred and forty monks were living with him in a monastery at Subico. They were busy every day praying, clearing the land, planting crops, teaching school, feeding the poor. Their motto was 'Pray and work'.
Benedict and his monks built a large monastery on Monte Cassino, on the top of the mountain. Thousands of monks went to that monastery. They were called Benedictines.
Benedict had the power of miracles. Once he raised a dead boy to life.
He had a twin sister, named Scholastica, who became a nun and a great saint. She founded the Benedictine Sisters.
Benedict died near the altar where he received the Blessed Sacrament, while his monks held up his arms in prayer.
Year 4 - Saint Matthew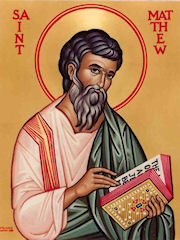 Matthew, called Levi, was the son of Alphaeus. He lived at Capharnaum on Lake Genesareth.
The first Gospel was written by Matthew in which he speaks of his call to be an Apostle. Sitting at his desk one day, he saw Christ come to him. When the Lord said to him, "Follow Me," he at once left his work and followed the Master. The people were surprised to see a Roman tax collector become one of the special friends and disciples of Jesus.
Matthew also tells us of the banquet he gave that Christ attended. It was a public farewell to his former friends. Many publicans and sinners came and sat down with Jesus and His disciples. Jesus said, "I have come not to call the just, but sinners."
Matthew wrote his Gospel to convince the Jews that the Messiah had come. He preached the Gospel among the Hebrews for fifteen years. He is also called the Apostle of Ethiopia. His shrine is at Salerno in Southern Italy.
Year 5 - Saint Joan of Arc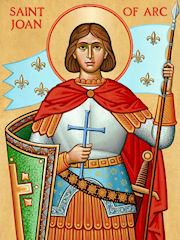 Joan was born in France in 1412. She helped her brothers on the farm and often went to a nearby chapel to pray to Jesus.
When she was seventeen, Joan heard the voice of God calling her to drive the enemies of France from the land. Going to the king, whose army had been defeated, she asked for a small army. The king, believing that God had sent her to save France, gave her a band of brave soldiers.
Joan had a great love for Jesus whom she often received in Holy Communion. She also had a devotion to the angels, especially St. Michael. Joan went before the soldiers carrying her banner with the words 'Jesus, Mary'. The soldiers became filled with courage and drove the British army into retreat. Charles VII was crowned king of France.
Later, Joan fell into the hands of the British and remained in chains for nine months. Then she was taken to the marketplace of Rouen and burned to death. With her eyes on a crucifix, she cried "Jesus, Jesus," through the flames.
Year 6 - Saint Bernadette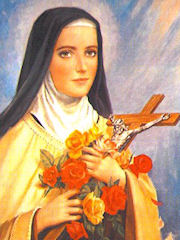 Bernadette's parents were very poor. They lived near Lourdes, in France. One day, in 1858, while Bernadette was gathering firewood, a beautiful Lady stood in a cave before her. She was dressed in blue and white, and there were roses at her feet. She smiled at Bernadette and asked her to say the rosary with her.
Bernadette saw the Lady eighteen times. Once the Lady said, "I do not promise to make you happy in this world, but in heaven." Large crowds followed Bernadette to the grotto to say the rosary with her. They could not see the Lady.
The Lady asked Bernadette to scrape the earth. The miraculous spring of Lourdes started to flow. Many people have been cured from this water.
When Bernadette asked the Lady her name, the Lady looked up to heaven and said, "I am the Immaculate Conception." Her message was "Pray for sinners." She asked that a chapel be built near the grotto. Today this spot is a great shrine of the Blessed Virgin Mary.
Later, Bernadette became a nun. Her life was one of joy. She died, at the age of thirty-six.