Uniform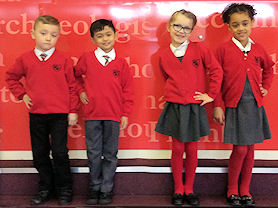 Some of our children proudly model our uniform.
At St. Margaret Mary's School we have two different uniform seasons, Summer and Winter. Below are the expected uniforms for the seasons:
Boys - Winter
Grey trousers
White shirt
School tie
Red v-neck jumper
Boys - Summer
Grey shorts or trousers
Red polo shirt
Optional red cap
Girls - Winter
Grey skirt or pinafore or trousers
White blouse
School tie
Girls - Summer
Red gingham summer dress
Red polo shirt
Grey skirt
Optional red cap
PE Kit
Children are to wear their PE kit to school on their designated PE day.
Plain white PE shirt
Plain black PE leggings/joggers
Black pumps
Notes
Please ensure that all uniform and PE items are clearly marked with your child's name and class to prevent them being lost or taken home by another child.
Shoes - in all cases, black 'sensible' shoes should be worn as part of the school uniform - no trainers or girls fashion shoes or boots.
Nail varnish must not be worn.
No jewellery (including earrings) is permitted.
Stockists
All school uniform can be purchased from the following stockists:
Clive Marks School Wear
11-13 Boldmere Road
Boldmere
B73 5UY
Trutex Schoolwear
71 High Street
Erdington
Birmingham
www.crestedschoolwear.co.uk
Uniform Plus
935 Walsall Road
Birmingham
B42 1TH